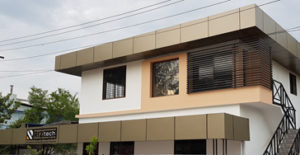 Dedicated to Precision. Dedicated to our Customers.
RIZTECH Engineering Private Limited (RIZTECH) is a new start-up company began its operation from year 2019 located in Kinfra International Apparel Park, Menamkulam, Thiruvananthapuram, Kerala, India to support Aerospace, Defense, Oil & Gas and high technology engineering industries. RIZTECH has been providing leading edge, quality machined components to its customers.  Technologically advanced equipment and systems and a team dedicated to high performance has allowed RIZTECH to continually satisfy the needs of a diverse list of our customers.
Our Mission
"RIZTECH dedicated to working in partnership with our customers. Seeking to continually improve manufacturing processes and techniques, we are committed to investment and know that continual improvements give our customers the benefits of a company striving to keep costs down and therefore increase competitiveness and profitability for all concerned".
Site Facts
Land ~ 18,729 Sq ft
Building ~ 4,500 Sq ft
Our Address
RIZTECH ENGINEERING Pvt Ltd, Kinfra International Apparel Park Plot #43C Menamkulam Thumba St Xavier's College, PO Thiruvananthapuram – 695586